The Training Center is located at the ancient Kristoni village in the area of Kilkis, 45 km north of Thessaloniki on a key position in North Greece close to an intersection with a main motorway and a railway which makes physical access very easy.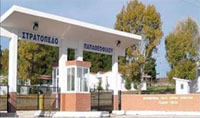 Academic Training is carried out in new spacious classrooms, adequetly equiped with all necessary equipment such as PCs, Projectors, ACs e.t.c. The Intranet that links all of our training facilities and various equipment  allows the conduct of the most demanding CAXs and syndicate sessions.  Classroom A
The field training is carried out in a special training area for PSO and   urban warfare which is located at Argiroupoli, a small village, 5 km east  of Kilkis.